A Happy Crow sells a selection merino based yarns, all hand dyed in the Gloucestershire countryside.
Our largest range of colourways are inspired by pride flags, something very close to Pod's heart. As well as pride inspired yarns, we take a lot of inspiration from nature and the seasons, and love the challenge of dyeing custom colours for people.
We also sell various yarn accessories including stitch markers, needle rolls & project bags!
At Allium Threads natural dyes to are used to colour yarn, embroidery thread, weaving yarn and handmade wool felt. Many are extracted from plants from the garden and nearby giving unique colours. Everyday yarns and luxury bases are available including various British wools and run from laceweight to chunky in weight. Toning shades of yarn, thread and wool are made by simultaneously dyeing different fibres and textures in the same dyebath. Allium Threads also produces knitting patterns influenced by historic textiles and dress and by the countryside and natural forms and kits based on these.
Handspun yarn and accessories, hand woven goods, hand dyed fibres for felting and spinning, knitting kits, felt art orginals and prints and greeting cards of my own designs. All natural fibres, some of which I source from local flocks.
Bellica Yarns sells beautiful variegated, semi solid and tonal yarns as well as a range of handy project bags in a selection of different styles and sizes.
All items are either sewn or printed by me. Project bags of varying shapes and sizes. Stitch markers, Needle books, Notebooks, Mugs, Cards, Embroidered Scissor cases, Circular needle cases, Crochet hook cases.
Jacob sheep skin rugs. Jacob and Shetland wool in 50gram skeins, some dyed, some natural colours. Washed raw fleece both Shetland and Jacob.
Hand dyed yarns and fibre inspired by the place, people and history of Cornwall, Handmade stitchmarkers and a wide selection of notions, needles and hooks for knitters and crocheters.
Wet felted gifts:
Framed seascape pictures (various sizes), Nuno Felted Silk scarves, Glasses cases, Cactus pots + cactus/succulent plant, Bowls, Shoulder bag/evening bag, Flowers, Flower brooches, Vases, Plant pots, Bookmarks, Purses, Ipad cases, Phone cases
I make wet felted, needle felted and machine embroidered pictures.
I also have cards and coasters from the images of my art.
Fox & Squirrel Creations specialises in hand-dyed yarn, dyed in Devon and inspired by nature. They have a variety of yarn bases available, including Sock (4ply), DK, Aran and Chunky, and their colourways are bright, cheerful and stand out from the crowd. They also stock a variety of yarn related accessories such as project bags, stitch markers and enamel mugs.
Gullrock Fibres is a plant dye studio in Devon run by Sinead who is passionate about combining her manufacturing engineering background with her love of materials, colour and texture. The plants are gathered locally and she also uses responsibly sourced dried plants and extracts. Her yarn bases are grown and spun in Devon, Cornwall and Yorkshire, are all nylon-free and non-superwash in order to retain their character and undergo as little processing as possible. Sinead is thrilled to be part of a fibre community who care about their environment, the materials they use and who support each other in the sharing of knowledge and skills. She hopes you enjoy crafting with her fibres and produce treasured pieces which will be used for years to come.
I live on a family run farm where we have a flock of Jacob sheep. From their wool we have produced a unique quality Natural coloured products, of throws, body wraps, scarfs, cushions & Sheepskins. New for 2022 a new design available in check & stripe pattern in colours of grey & white. Pure wool yarn in 4ply & Aran in the natural colours. I have a small selection of knitted items.This year I have tried hand dying some yarn with some success. Everyone who purchases one of my items can be assured of its traceability.
I sell a range of my handwoven and knitted items alongside individually hand-dyed yarns and fibres. I also sell ethically traded ceramic buttons and beads from South Africa.
We are a Hand Dyed Yarn company providing top quality Yarn and fleece, sourced from reputable UK based suppliers. We also supply Addi Accessories, which are renowned for their quality and ergonomic design. As well as lots of hand dyed yarn to choose from, there are a variety of knitting and crochet kits available.
At Kosy Kitchen Fibres, we are all about high quality products designed to inspire and excite our customers.
I'm a needle and wet felter, creating needle felted flowers, seagulls and birds 2D and 3d. I also create wet felted bags.
Unique, bold, bright, beautiful ceramic buttons, beads, stitch markers, needle keepers, jewellery and quirky decorations; all hand created by Vanessa in her eclectic studio in Marazion.
We make accessories and sell supplies for knitting, crocheting and other related crafts. Our favourite material is linen and all the supplies are also exclusively natural, mostly linen and wool.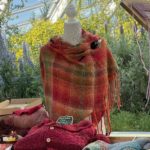 Hand woven shawls & Wraps also hand made Tri-loom weaving frames
I hand paint ethically sourced luxury but affordable yarns in lots of yarn bases a large selection are processed in British Mills.. The inspiration for the colour ways in my yarns come from the coast and countryside surrounding my home in Somerset. I design patterns to complement my yarns and these are available in both printed and pdf form. Some of the popular patterns are available in kit form. I also sell a lovely selection of gifts for knitting and crochet, including handmade stitch markers, needle keeps, shawl pins had made in England and the extremely popular gift a balls.
Shelagh spins, dyes, weaves and hand knits the colours and textures of wild Dartmoor. British, rare breed and heritage lambswool, silk and sustainable natural fibres are processed, carded, dyed and knitted by hand to make one of a kind unisex sweaters and hats. Handwoven scarves, throws, cushions and bags made from handspun and mill ends of British lambswool. Artisan textiles, timeless, zero waste and eventually biodegradable to replenish the soil. Skeins of handspun yarn, washed and handdyed locks and tops for spinning and felting, drop spindles, small hand looms. Demonstrations of spinning and fibre preparation on the stand.
We will selling our natural fibre yarns mostly from UK with kits and knitting accessories
Our own hand painted and natural dye yarns and fibre and patterns. Knitting books, drop spindles and recycled sari silk. Rug yarns, hedgehog fibres, Marie Wallin, The Fibre Company, Fyberspates, Shetland wool cones, needles and crochet hooks.
Alpaca socks , yarns, kits, gifts from our herd Chilla Valley Alpacas plus a variety of other luxury natural fibres and yarns.
At Blacker Yarns we specialise in breed-specific 100% British wool yarn, all spun under one roof in our mill in beautiful Cornwall. Our crochet and knitting yarns are available in different weights including Laceweight, 3ply, 4ply, Double knit (DK), Aran and Chunky amongst others and we cover everything from rare to luxury premium ranges in a large variety of different bases in contemporary colour palettes. We're passionate about our products and that's why we work with only the very best quality fibre, sourced from British farmers who take the utmost care of their animals and nature, providing traceability.
As a textile artist and spinner myself, the quality and understanding of wool fibre is important. I produce many different products from colourful hand dyed and spun yarns & art yarns to raw fleece from my own mixed flock of rare breeds. I love blending different colours, textures and sparkles into batts and rolags for spinning and my own Teeswater sheep produce beautiful long lustre curls which are bunched and dyed in rainbow colours. For those wanting to begin their own woolly journey, I make learn to spin kits and my needle felting kits use rare breed British wool.
Hand dyed yarns made in small batches from the Wild West of Cornwall on the West Penwith Peninsular. Inspired by the rugged beauty of the far west coastline of this stunning county. From the cliff top heather, gorse and bracken through to the secluded fishing cover and beaches. Yarns are dyed in batches of 3 – 5 skeins with prices starting at £12. We try to have something for everyone.
Design & manufacture of bespoke wood products, specialising in knitting /sewing and crochet accessories.
My hand dyed yarns cover a range of weights, from cobweb to sock weight, and are suitable for weavers, knitters and crocheters alike.
I'll bring a selection of the wonderful Jamieson & Smith pure wool Shetland 2 ply yarn, and our range of original knitting kits that use these yarns and explore fair isle designs suitable for beginners and seasoned fair isle knitters.
I'll also have a small weaving loom for demonstrations and a selection of small looms and equipment for weavers to buy.
Handspun yarns, natural plant dyed yarns, handwoven and knitted shawls and scarves plus miscellaneous handmade buttons, mini yarn skeins, hand dyed silk, handmade stitch markers.