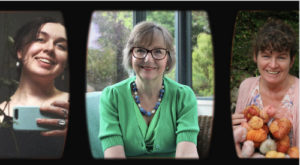 Hi, we're the YAFF Team – Connie, Caroline & Steph!
We all have a passion for yarn & it's many associated crafts, & we've been yearning for more yarn shows in the South West for a long while. One afternoon in St Ives in late 2021 we met up for lunch & decided that complaining about it wasn't going to make anything happen, so we would set up a new event ourselves!
We have a wealth of experience & enthusiasm between us, & we've been working hard to get this new show going. You can read more about us & our individual businesses on our Meet Us page.
We'll be bringing you progress updates on this mini blog as the arrangements progress. We hope you'll join us on the journey & on the show day – Sunday 18th September 2022!
Follow us on Facebook or Instagram, & join our mailing list so you don't miss anything.
Bye for now!