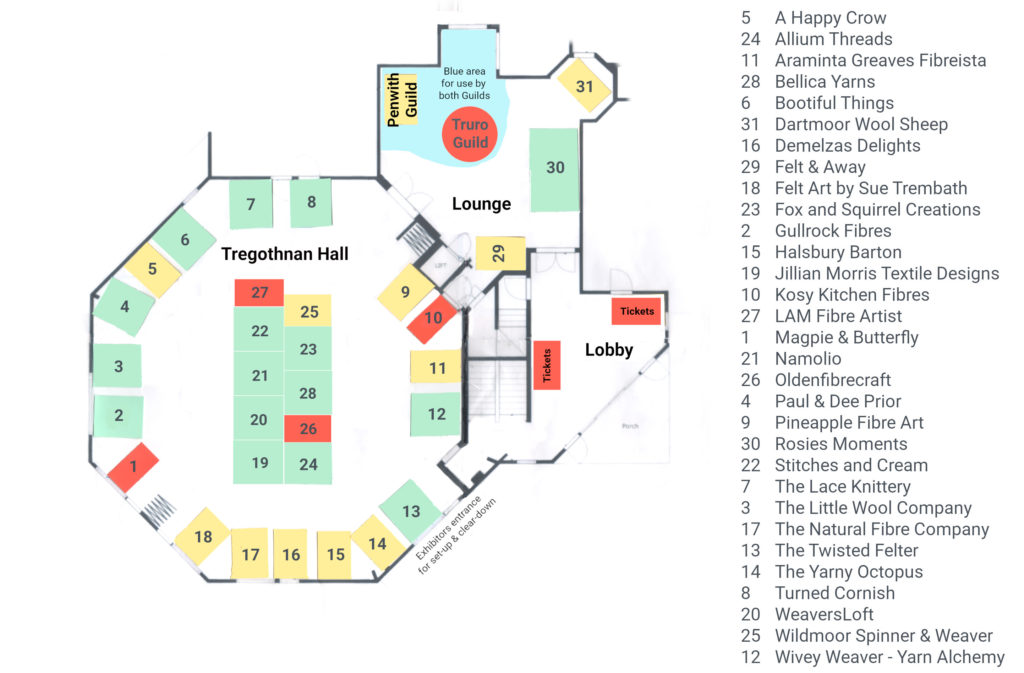 As you come into the venue, which has ramped access, you will enter the Lobby where you can buy tickets or check in quickly if you have pre-booked. Start to get a feel for the show with displays from one of our Guilds!
From there you go through to the Lounge area where there will be a few exhibitors plus wonderful displays and demonstrations from the other of our Guild exhibitors. At the show there will be The Knitting and Crochet Guild Truro and West Penwith Spinners, Weavers and Dyers Guild.
The main room at the Pavilion Centre is Tregothnan Hall. It has a high ceiling and a spacious airy feel. You find lots of exhibitors in here, with ample space around the stalls for you to browse comfortably.
Overlooking the Tregothnan Hall in the Gallery, there will be a short inspiring film about sustainable textile practices. The space is easily accessible by stairs and a lift. The film is well worth a watch to gather a few new ideas!
In the afternoon there will be crafty drop-in workshops in the Gallery to learn how to do visible mending, crochet a granny square, and knit i-cord using yarn scraps.
Toilets are on the lower ground floor, again accessible via a lift and stairs. There's a doorway out and up steps to the outside area.
Outside, there are 2 fabulous food and drinks vendors, patio tables and chairs for you to sit and chat, meet up with friends and compare purchases!